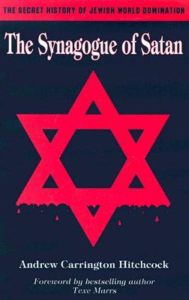 Ende des Britischen Kriegs gegen Amerika, Second Bank of the United States
1816: Der Amerikanische Kongress erlässt ein neues Gesetz, das eine weitere Rothschild dominierte Zentralbank erlaubt, das den Rothschilds wieder Kontrolle über den Amerikanischen Geldmarkt gibt. Diese Zentralbank heisst Second Bank of the United States und es wird ihr eine 20­jährige Erlaubnis gegeben. Das bedeutet natürlich das Ende des Britischen Krieges gegen Amerika mit dem Tod von Tausenden Britischen und Amerikanischen Soldaten und der Bildung einer Rothschild kontrollierten Zentralbank.

1818: Nachdem die Franzosen in 1817 Darlehen aufnehmen, um den Wiederaufbau nach ihrer verheerenden Niederlage bei Waterloo zu ermöglichen, kaufen die Rothschild Agenten enorme Mengen Französischer Staatsanleihen, wodurch ihr Wert steigt.

Am 5. November schütten sie die gesamte Menge auf den offenen Markt, wodurch ihr Wert nach unten stürzt, und Frankreich in finanzielle Panik versetzt. Die Rothschilds' schreiten daraufhin ein, um die Kontrolle des Französischen Geldmarktes zu erlangen, dies ähnelt ihrer Manipulation des Britischen Aktienmarktes 6 Jahre später.

Dies ist dasselbe Jahr, indem die Rothschilds £5,000,000 an die Preussische Regierung verleihen.

1821: Kalmann (Carl) Mayer Rothschild wird nach Neapel, Italien gesandt. Er wickelt eine Menge Geschäfte mit dem Vatikan ab, und Papst Gregor XVI überträgt ihm daraufhin die Order des St. George. Auch gibt der Papst, jedesmal wenn er Kalmann empfängt, ihm seine Hand anstatt des gewöhnlichen Zehens zum Küssen, was Beunruhigung darüber auslöst, wie gross der Machteinfluss des Kalmann Rothschild über den Vatikan ist.

1822: Der Kaiser von Österreich macht die 5 Rothschild Brüder zu "Baronen". Nathan Mayer Rothschild zieht es vor, den Titel nicht anzunehmen.