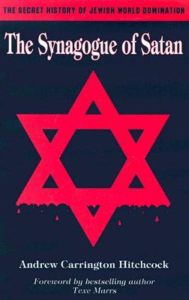 1942: Die Firma von Prescott Bush, Vater und Grossvater des zukünftigen Präsidenten George Herbert Walker Bush und George W. im Besonderen, wird unter dem "Trading With The Enemy (Geschäfte mit dem Feind)" Akt konfisziert. Er finanzierte Hitler von Amerika aus, während Amerikanische Soldaten von Deutschen Soldaten getötet wurden. Interessanterweise kritisiert die Anti­Defamation League (ADL) die Bush Familie nie für dieses.Am 8. Mai veröffentlich der Jewish Chronicle ein Editorial, in welchem stolz behauptet wird:
­ "Wir waren im Krieg gegen Hitler seit dem ersten Tag seit er zur Macht kam."
In der Tat macht Chaim Weizmann, Präsident des World Jewish Congress, die folgende Behauptung in New York,
"Wir verneinen es nicht und wir haben keine Angst, zuzugeben, dass dieser Krieg unser Krieg ist und dass es für die Befreiung der Juden geführt wird… stärker als alle Fronten ist unsere Front, die der Juden.


Wir geben diesem Krieg nicht nur unsere finanzielle Unterstützung, auf welchem die ganze Kriegsführung basiert.Wir liefern nicht nur die volle Macht der Propaganda, welche die moralische Energie liefert, die den Krieg am Laufen hält. Die Garantie eines Sieges ist vor allem auf einer Schwächung des Feindes basiert, auf die Zerstörung dessen im eigenen Land, inmitten des Widerstandes.


Und wir sind die Trojanischen Pferde innerhalb des Bollwerkes des Feindes. Tausende von Juden, welche in Europa leben, bilden den wichtigsten Faktor an der Zerstörung des Feindes. Dort ist unsere Front eine Tatsache und die wertvollste Hilfe für den Sieg."
Leonard Goldenson gründet das ABC Fernsehnetzwerk und überwacht als Präsident den Erfolg von ACB.